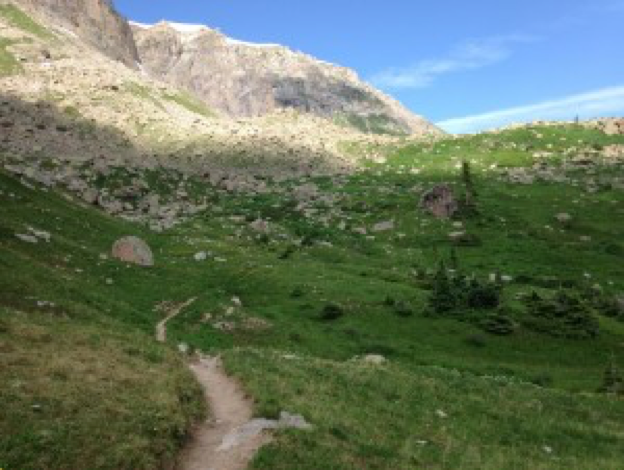 I took this picture a couple of months ago while on a hike in the Rocky Mountains. It is a beautifully imperfect trail, which leads us down a path toward greater and greater beauty. Just like the trail of life that we are all following. None of us knows where our life will take us. Tonight I was looking through an online library of movies to watch, which is something that I rarely do. Amongst the massive list of films that presented me with no interest whatsoever, I found a classic film, "Forrest Gump". This movie is one that gives the viewer a good perspective on American history while at the same time helping you to see the compassion and love that even the lowliest of men have to offer. One of the first lines in the movie is incredibly well-known in American culture: "Momma always said that life was like a box of chocolates; you never know what you're gonna' get." I've heard this line a thousand times being quoted by anyone and everyone. Until tonight, it had no significance to me. Tonight however, when he said that line, it had such a large impact on me because of the experiences that I am having right now. Six months ago, I would never have guessed that I would be sitting here tonight, thinking the things that I am thinking, and feeling the things that I am feeling.
Tonight I am sitting in my office in an empty house, which is now where I live. There were no children here to tuck in tonight. There was no companion for me to kiss goodnight. I am in a place that I never thought I would be. I never would have foreseen this coming. I never predicted it. Yet here I am. I took a bite out of a chocolate, expecting it to be filled with caramel, but was surprised to find it filled with strawberry cream. Both are pleasant, but I expected one and received the other. There are so many things in our lives that we are all going to experience that will never be expected. I believe that most of us have in our minds an idea of what our lives will be like, but at the end of the day, we are given new trials and circumstances that we never would have given ourselves had we known any different, and we end up in a place that is as far from where we had imagined as it is possible to be. The amazing beauty of this is that we are given opportunities from our Heavenly Father to grow in ways that only we need individually. You are given trials so that you can become the best "you" that you can possibly be. Only He knows your true potential and what lessons you need in order to become what He has in store for you to become. I know that you are going through unique challenges right now. Everyone here is. If you acknowledge the fact that The Lord is the one overseeing this challenge, it will help you to have perspective and will help you to understand that He is only helping you to learn in the way that you need to in your own unique way.
Just as I sat down this evening to finalize the day, I opened to First Peter in the New Testament, Chapter 1, verse 7. It states "That the trial of your faith, being much more precious than of gold that perisheth, though it be tried with fire, might be found unto praise and honor and glory at the appearing of Jesus Christ." What an incredible way to see your trials! Your trials and challenges are "more precious than of gold"! In other words, the value that lies within the lessons you are now learning, is far beyond worldly measure! I especially loved that Peter related it to fire. When we are in the middle of one of these challenges, "fire" is often the absolute best way to describe it. It consumes everything, it burns, and it is beautiful!
I am so very blessed to have the people in my life that I do. So many have shown up that I have known for years, while others have come out of the woodwork that I hadn't even met yet! I am so thankful for each of you and I truly do love each and every one of you. As a result of my own personal trials, I have been blessed with you.